Media Outdoor Advertising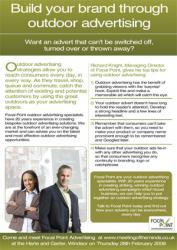 Build your brand through outdoor advertising. Want an advert that can't be switched off, turned over or thrown away? Outdoor advertising strategies allow you to reach consumers every day, in every way.
As they travel, shop, queue and commute, catch the attention of existing and potential customers by using the great outdoors as your advertising space. Focal Point outdoor advertising specialists have 20 years experience in creating bespoke outdoor advertising solutions.
We are at the forefront of an ever-changing market and can advise you on the latest and most effective outdoor advertising opportunities. Richard Knight, Managing Director of Focal Point, gives his top tips for using outdoor advertising:
Outdoor advertising has the benefit of grabbing viewers with the 'surprise' hook. Exploit this and make a memorable ad which will catch the eye.
Your outdoor advert doesn't have long to hold the reader's attention. Develop a strong headline and a few lines of interesting text.
Remember that consumers can't take the advert with them, so you need to make your product or company name prominent enough to be remembered and Googled later.
Make sure that your outdoor ads tie-in with any other advertising you do, so that consumers recognise any continuity in branding, logo or catchphrase.
Focal Point are your outdoor advertising specialists. With 20 years experience in creating striking, winning outdoor advertising campaigns which boost business, we can help you to put together an outdoor advertising strategy. Talk to Focal Point today and find out how your adverts can be everywhere, every day.
If you would like to know more about a host of outdoor advertising opportunities then please call Focal Point on 01256 767837.