Reaching A Wider Audience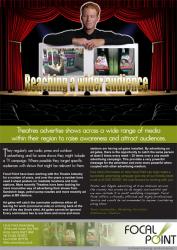 Theatres advertise shows across a wide range of media within their region to raise awareness and attract audiences. They regularly use radio, press and outdoor advertising, and for some shows they might include a TV campaign. Where possible they target specific audiences with shows that might be relevant to them.
Focal Point have been working with the Theatre Industry for a number of years, and over the years a number have used 4 sheet posters on roadside locations and train stations. More recently Theatres have been looking for more innovative way of advertising their shows from Sandwich bags, petrol pump nozzles and more recently ad gates at BR stations.
Ad gates will catch the commuter audience either all leaving for work (concourse side) or arriving back at the end of the day (track side). Ad gates cannot be ignored. Every commuter has to use them and more and more stations are having ad gates installed. By advertising on ad gates, there is the opportunity to catch the same person at least 5 times every week – 20 times over a one month advertising campaign.
This provides a very powerful message for the advertiser and even more powerful when coupled with other advertising medium.
For more information on how Focal Point can help create a successful advertising campaign give one of our friendly team a call on 01256 767837. We look forward to working with you.