AdBike Advertising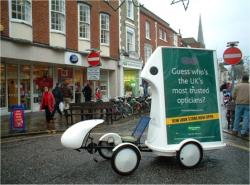 OWN YOUR OWN ADVERTISING MEDIUM!
" THE ADBIKE"
4 wheel pedal driven quadricycle Chassis with high gloss white glass fibre "6-Sheet" (1800mmx1200mm) poster Units, with perspex, "easy change" housing.
Complete with integrated high performance sound system, internal storage capacity, lockable back door, front hatch, and 12 Volt leisure Battery power supply.
PRICE £3500 plus VAT*
Includes
Integrated Backlighting for posters
Electrical motor assistance
Full CD radio sound system
Extras
Fridge/ Hot Box Unit – £150 plus VAT
Wheel Covers – £30 each plus VAT
Additional Nose Cones – £100 each plus VAT
Additional Equipment
Weather proof transport covers £200 each plus VAT
Purpose built transport trailers £1500 each plus VAT