Campaign Ideas For Advertising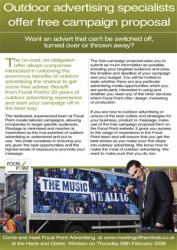 Focal Point, the outdoor advertising specialists, are offering a free campaign proposal to all new and potential customers. The no-cost, no-obligation offer allows companies interested in unlocking the enormous benefits of outdoor advertising the chance to get some free advise.
Benefit from Focal Point's 20 years of outdoor advertising experience and start your campaign off in the best way. The dedicated, experienced team at Focal Point create tailored campaigns, allowing companies to target specific audiences. Wastage is minimised and reaction is maximised as the true potential of outdoor advertising is understood and put to use.
We pride ourselves in ensuring you are given the best opportunities and the highest levels of exposure to promote your message. The free campaign proposal asks you to submit as much information as possible, including your targeted audience and area, the timeline and deadline of your campaign and your budget. You will be invited to state whether there are any particular advertising media opportunities which you are particularly interested in using and whether you need any of the other services which Focal Point offer: design, marketing or production.
If you are new to outdoor advertising or unsure of the best outlets and strategies for your business, product or message, make use of the free campaign proposal form on the Focal Point website. It gives you access to the range of experience in the Focal Point team and will ensure that you get the best advice as you make your first steps into outdoor advertising. We know how to make the most of outdoor advertising – we want to make sure that you do, too.
If you would like to know more about a host of outdoor advertising opportunities then please call Richard Knight on 01256 767837