Changing Rooms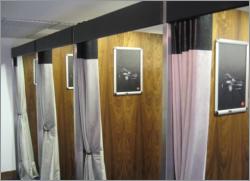 This is an intimate way to deliver your message to your desired audience in aspirational surroundings.
Our partnership with a number of high profile, high street fashion retailers allow brands to engage with consumers aged 15-50 in a non-competitive environment.
Effective campaigns range from building brand awareness with a broadcast audience, to a targeted campaign with a specific target audience. True flexibility allows advertisers to plan a national, regional, or line by line campaign.